If you're a working professional, it's very likely that you have incorporated Twitter into your business strategy. You can't mention social media without listing the microblogging site. From students to politicians, celebrities to business entities, and everyone else in the general public, the website is an effective platform for anyone looking to receive or deliver real-time information.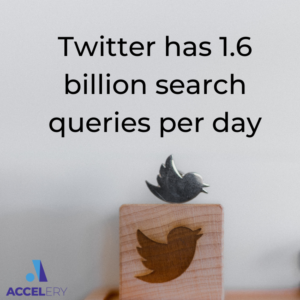 Over 15 years ago, Twitter was introduced and is now regarded as one of the most reliable ways for instant feedback from customers and clients alike.  
The service handles an average of 1.6 billion search queries per day from 100 million users throughout the world, engaging both a broadcaster and a receiver. The web-based recruitment and hiring tool has revolutionized the accessibility of job seekers everywhere, effectively transforming corporate engagement. 
The term 'post' and 'hashtag' are synonymous with the service. Countless tweets can be scanned by a glance, ideal for our increasingly attention-deficit world. A predetermined size cap promotes concise delivery, making the character restrictions a standout social media tool. 
The Origin Of Twitter
Think about it this way: one of the most profitable social media companies was originally a side project. 
Just like any digital enterprise, Twitter began with a different name. In 2006, San Francisco-based podcasters Odeo introduced Twttr (an abbreviation of the company we now know and love) to the public. Prior to the unveiling, the short messaging service was exclusive for groups within the company, where employees communicated by sending text messages to a single number (40404). When Odeo failed after iTunes introduced free podcast streaming, their focus transitioned to brainstorming ideas that would combat obsolescence. The Twttr prototype became the company's main service, worked on by Odeo's scant team of 14 employees. 
Engineer Jack Dorsey — the brainchild behind the concept — sent the first-ever tweet that March, posting "just setting up my twttr". 
A 140-character limit was imposed at the time — the maximum length of a text message. It was later expanded to 280 characters.  
Growth
The next year was a turning point for the newly renamed Twitter. Interest detonated at the South by Southwest convention in Austin, where more than 60,000 tweets were sent per day. The company went public the following month, following an influx of venture capital (over $57 million). Within a decade, Twitter had blossomed to thousands of employees and more than 200 million users. Though their user base is merely a fraction of rival Facebook, it is a quintessential source for breaking news and instantaneous information, rendering newspapers as archaic. 
Monetization
Twitter reported annual revenue of $1.5 billion generated last year. Their earnings report has shown a 7.4% growth from year-to-year.
Although it is a free SMS/social networking platform, there are still several ways that Twitter makes money: 
Advertising services— The platform allows opportunities to advertise to other users. Sponsored content generated $3.2 billion in 2020 or 86% of their revenue. The segment's revenue rose 7.1% from the previous year. Promotions include promoted tweets, promoted accounts, and promoted trends. 
Data Licensing— The platform sells subscriptions for data protection, making up 14% of its revenue. Revenue for the segment grew 9.2% from the previous year, raking in $509 million. 
Research Solutions — Twitter sells subscriptions to public data beyond its public API. They additionally sell advertising products to third-party publishers' websites, applications, and other offerings. 
Ticketed Spaces — The website charges for access to private digitized business meeting rooms. 
User Monetization — The newest method is monetizing users. Eligible users must pay a premium for the service. 
Role In Business
Simply put, Twitter is a brand builder. When companies use the platform, customers are more likely to visit the website and bolster interactions. In fact, three-quarters of companies have an established online presence by using Twitter for their marketing. Brand involvement is paramount to consumers between the age of 18 to 35 — a targeted market that desires their purchasing decisions to align with modernity. Because of its capabilities to produce instantaneous news, businesses can feel the pulse of our culture, effectively positioning themselves into the epicenter of present happenings. 
According to Nielsen Brand Effect, when brands created profiles on the website, there were positive percentage increases in message association, brand awareness, brand preference, and purchase intent. Additionally, Twitter's sophisticated algorithm provides tailored advertising opportunities is available to users, ensuring promoted products appear on the preselected audience's feed. 
The company played a prominent role in presidential elections, especially during Donald Trump's run. By publishing outspoken claims and transparent policy, the former reality star and businessman won the election. 
Digital Transformation
Consumers always talk; it's up to the brands to listen.
When it comes to digital transformation strategy development, the customers always come first. Twitter offers a plethora of opportunities and has remained at the forefront of a digitally transforming economy.
Empower, informed, and influential consumers can effectively make or break that structure. 
In a world that's permanently shifting toward the internet (we spend an average of almost 7 hours every day online), the website provides excellent opportunities to listen to communicating feedback through reviews, surveys, shared options, and listed experiences.
What It Means For Your Business
Twitter is not what it use to be. It is not as essential for a business as Facebook or LinkedIn. And, social media as a whole is just one part of digitally transforming. However, Twitter is a social network to be considered, and most likely your business will want to work it into your strategy. And, as competitors to Twitter continue to attempt to find their share in the market, consider whether establishing a presence on similar newer platforms might make sense for your business.