If you're a working professional, it's very likely that you have a LinkedIn profile. Nearly 20 years ago, LinkedIn was introduced and is now regarded as one of the oldest (and most reliable) mainstream social platforms. Yes, it even predates YouTube, Facebook, and Twitter.
It is universally considered the essential social media network solely dedicated to the professional world — a preemptive website that marked a permanent shift in how business hires are conducted. Since its inception, LinkedIn has connected 800 million members in more than 200 countries and territories worldwide. The web-based recruitment and hiring tool has revolutionized the accessibility of job seekers everywhere, effectively transforming corporate engagement.
Long ago, there once existed a corporate stone age, where applicants had to find job postings in newspapers and frequent office buildings to submit their resumes. This way of collecting CVs and conducting interviews is as irrelevant as payphones and CDs. The internet is now the universal resource for those who have looked for work, with online job searches doubling in the last decade.
LinkedIn is at the forefront of this career-seeking behavior. It has also become a leading tool in sales lead generation.
The Origin Of LinkedIn
Just like any digital enterprise, most great ideas are conceived in comfortable places. Amazon began as an online book store in Jeff Bezos' garage. Facebook was brainstormed in a college dorm room. Not an exception to the rule: LinkedIn was founded in 2002 in the living room of co-founder Reid Hoffman.
No stranger to digital communication, Hoffman started the very first social networking website socialnet.com back in 1997, when Zuckerberg was only in middle school. It took a year, but LinkedIn officially launched on May 5, 2003.
The original business statement was geared toward connecting world's professionals, in a plight to make them more successful and productive. The management team was composed of seasoned executives from such companies as Paypal, Yahoo, and Microsoft (more on them later).  At the end of its first month of full operation, the company only had 4,500 members in their network.
To address lagging growth, LinkedIn altered their strategy the following year, providing tools to accelerate growth for small business owners. Features offered included address book uploads, Groups, and partnership with American Express. It took two years, but revenue was generated in 2005. Their mission statement was also established, eager to "connect the world's professionals to  make them more productive and successful".
Growth
Each year since its introduction, LinkedIn membership has accelerated by the millions. The company introduced public profiles — the signature feature of the site that is utilized today. Things took a serious turn the following year, when users increased by 15 million.
The next decade saw a complete transformation of the company. It opened international headquarters, became publicly traded, and offered teaching opportunities on a variety of subject areas. Now, the company has topped 315 million users globally — accounting for over 50% of the world's workforce. More than 57 million companies have a profile and 61 million users boast senior-level influence.
Monetization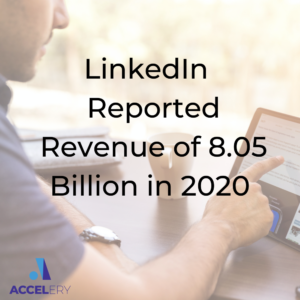 LinkedIn reported an annual revenue of $8.05 billion last year. Their earnings report has shown 250% growth in just three years.
There are several ways that LinkedIn generates revenue:
Premium Subscriptions — LinkedIn Premium allows in-depth access on job openings, permitting direct messages to hiring managers, and extensive salary insights, all for a $29.99 monthly fee.
Marketing Solutions — The platform provides companies an opportunity to advertise to users. Sponsored content increased 60% and was responsible for $3 billion in revenue this year.
Talent Solutions — Recruitment services are sold to professional recruiters and employers. Hiring assists recruiters in attracting talent; Learning and Development offers online courses to enterprise clients and individuals. Talent solutions accounts for 60% of the company's valuation.
Role In Business
Microsoft purchased the social network in 2016 for a whopping $26.2 billion, including $196 per share — the largest acquisition in company history. The Office software suite can be utilized in collaboration with LinkedIn, in both application building and offering relevant articles to assist on the specific project ideation.
Microsoft bolstered advertising inventory, subscription, and user data (an assist in recruiter product improvements). Most importantly, Microsoft has allowed LinkedIn to operate as its own independent entity.
After all, if it ain't broke, don't fix it.
Digital Transformation
LinkedIn offers a plethora of opportunities and has remained at the forefront of a digitally transforming economy. A whopping 87% of recruiters find the website to be the most effective in vetting candidates for available positions, especially in interviewing those under 45 years old (90%).
In a world that's permanently shifting towards remote work — for both social and health reasons — the website provides excellent opportunities to network with other professionals in a given field. On a monthly basis, three million jobs are posted, fielding 100 million job applications. Some fast math reveals that around 30,000 companies now use LinkedIn as their primary platform for recruitment each month.
Boasting a robust job board coupled with a 20% year-to-year increase, LinkedIn continues to grow at a steady pace.
It is now synonymous with both digital networking and work searches.
What It Means For Your Business
LinkedIn is an essential part of any business's digital marketing strategy. But, it goes beyond that. LinkedIn is a key tool in recruiting, in branding, as social proof, and in company pride. And, the role of LinkedIn in business is likely to only grow.
Your company needs a plan for LinkedIn as part of your digital strategy. If you're transforming digitally, it is the perfect time to get all of your employees on board with LinkedIn. Not all of your employees need to be daily LinkedIn users or LinkedIn experts, but getting your employees to have some presence in the digital business social networking landscape will pay big dividends.
Want to learn about the role of another social network in a digitally transforming world? CLICK HERE to learn about the role of Youtube in a digitally transforming world.