Facebook served as the first post-Myspace wave of social networking that pioneered innovation. The website's creativity seems very rudimentary to us now, but set the stage for our current internet experience. 
Over the years, Facebook has expanded to include multimedia and shareable content from outside the network. The sheer mass of users allows the app to offer the most diverse advertising audience in the digital age, completely subverting the business landscape's marketing strategies. With a built-in audience and brand loyalty, the social media platform is the first pitstop in appeasing customer wants. 
Now part of the company Meta Platforms, Facebook towers as a monopoly (that's not really a monopoly), allowing business owners to start a page that costs a whopping… $0. Paying for ads, boosted posts, and sponsored content costs a fraction of what other digital and physical ad initiatives would cost, placing Facebook at the summit of all business endeavors.  
The Origin Of Facebook
If you've seen the Oscar winning "The Social Network", then you know Facebook has a very complicated history. Originally conceived in a college dorm room in 2003, the website was coded by a group of Harvard students and gradually became the largest social network in the world, accounting for nearly three billion users as of 2021. 
Initially, the concept wasn't so PC-friendly. 
The name was originally 'Facemash' and was developed for students to judge the attractiveness of female Harvard attendees. Upon its initiation, 450 people flocked to the URL. The social network eventually evolved into 'The Facebook' in 2004, permitting university students only to share photographs and personal information about their lives — much like competitor Myspace. 
By June 2004, more than 250,000 students had signed up, and attracted advertisements from MasterCard to pay for exposure on the website. 
Growth
The year 2005 was a turning point for the company. Facebook introduced tagging people in photos and permitted unlimited picture uploads. 
In 2006, the site finally opened to the general public. Direct consumer engagement to anyone over the age of 13 gave incentives to promotional efforts by marketing and advertising. 
In 2012, Facebook filed to become a public company. The largest IPO to date belonged to Google. By the end of the first day of Facebook stock trading, creator Mark Zuckerberg's holdings were estimated at ten times that of the search-engine company.  
After several updates, the website now has numerous components, including a timeline, status, and news feed. Other services part of the newly unveiled Meta Platforms includes Instagram, Messenger, and WhatsApp. 
Tech giants Facebook and Google are a "duopoly" in online advertising, controlling over 70% of the market.
Monetization
Facebook reported annual revenue of $85.9 billion last year. To put that in perspective, that's almost $80 billion higher than competitor LinkedIn. Each year since its invention, Facebook membership has accelerated by the millions. By permitting open access to the general public, the app has now been downloaded over five billion times. Last year saw $40.5 billion of the company's revenue generated in North America, despite only 10% of users based in that region. Over the last decade, the company has increased its revenue by 229%.
Of course, accessing Facebook is free of charge — the standard entry to most social media websites. Only LinkedIn charges for a premium service. So, how does Facebook make money? 
Digital Advertising — The company earns most of its profits in advertisements. In fact, ads represented 98% of Facebook's revenue in 2020. Most ads are pay-per-click, meaning advertisers face the website each time people click an ad. 
Virtual Reality — VR consoles Oculus and Portal made up 2% of revenue, including payment fees from developers. 
Role In Business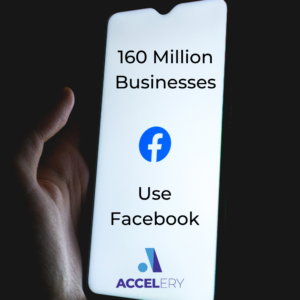 Peer-to-peer connectivity makes it simple for businesses to directly connect their products to consumers. In particular, small businesses are granted e-commerce tools through the Facebook Shops. That audience includes billions (!!!) of potential customers, as per the number of Daily Active Users on the site. That's an 8% growth, year-over-year. Out of those users, 75% are high-income earners that are on the website an estimated 1.5 hours per day. 
According to Facebook, 160 million businesses use their advertising platform globally, utilizing tools that adhere to a targeting strategy. Marketing can attract individual users by a complex algorithm, that includes interests, age, behavior, occupation, marital status, and so much more. 
Business messaging also transpire over WhatsApp and Facebook Messenger. 
Offered systems installed in the platform include tracking metrics, nurturing automation, and segmenting subscribers. 
Digital Transformation
Facebook offers a plethora of opportunities that extend beyond traditional social networking. Beginning in the presidential election of 2008, the website formed several groups to support either candidate. In oppressed countries, the service has been used to rally activists and protestors dissatisfied by oppressive regimes.
To combat their audience aging out of public relevance, the website has competed with perceived 'hip' apps for teenagers (ie Snapchat and TikTok) by making smart acquisitions over the last decades. Purchases include: Instagram (2012 for $1 billion), WhatsApp (2014 for $16 billion), and Oculus (2014 for $2 billion). 
With their incredible reach, Facebook controls a quarter of all online advertising in the world, making them a necessitated ally for all businesses.  
What It Means For Your Business
Utilizing Facebook is necessary for almost all businesses. For years now, most businesses have established a presence on Facebook through Businesses Pages, and more recently business Instagram accounts. Many businesses have utilized WhatsApp as a means of communication. As the Metaverse technology and implementation develops, many business will likely hold meetings and conduct meetings within the Metaverse. Facebook is not going anywhere anytime soon.
As you transform your organization ditially transforms, you need to keep Facebook in mind and have a strategic plan on how your company will utilize Facebook and its subsidiary products. Failing to incorporate Facebook into your future digital strategy will likely lead to your competitors having an advantage over your business.