It's a movement. More now than ever, professional athletes have an incredible amount of influence, autonomy, and voice, in an industry where they used to be silenced. Though modern athletes now have a say in free agency — in particular, the NBA — the start of the player empowerment movement truly took shape at the start of the decade, with LeBron James, Dwayne Wade, and Chris Bosh choosing to join forces with a superteam in Miami. Critics argue there have been coined "Big 3" squads before, but these were all required by trade; James and Bosh were free agents. 
Those who want out of a bad situation are used to getting what they want, usually landing on a contending team. 
Fan Sided
Call it collusion. Executives have yet to say "no" to the league's growing talent disparity. 
Critics forget that unrestricted free agency rules changed in 1988. Under the new rules, players could only become unrestricted after playing through two contracts and/or seven years in the NBA. Then-Supersonic Tom Chambers met both standards and left for Phoenix. Before that, players could only go places through trades, having little say as to where the direction of their careers was going. 
Many fans continue to side with the players to this day. 
According to league revenue, athletes owned 57% of the league revenue in 2005; now, they only claim 50% today. Witnessing players gain their autonomy by stripping control from owners is celebrated as a step in the right direction.
Showcasing Voice
Social media plays a big part in empowering individuals. From superstars to the deepest bench players, each harnesses the power of digital marketing to create their own personal brands. In particular, Twitter allows the player to speak directly to the audience. 
Back in 2009, Charlie Villanueva was competing in halftime, and gave his analysis of the Boston Celtics' performance on Twitter. The Associated Press had to explain what a tweet was to their audience. Thirteen years later, the platform has positioned athletes as global superstars, permitting further communication to fans. Social media channels, blogs, podcasts, production companies, and digital content companies have followed. Startups such as Uninterrupted by Lebron James and Acorns/Postmates with a hefty investment by Kevin Durant have become the envy across the league — likely prosperous endeavors that wouldn't be plausible without empowerment. 
Reasons For Departure
Essentially, players try to be victorious wherever they are. If the franchise is mismanaged, it isn't their fault. Athletes such as Jimmy Butler, Anthony Davis, and Ben Simmons were criticized for scorching earth on their way out of each respective team. Let's break this one down in order: 
Jimmy Butler was so dissatisfied with the poorly run Minnesota Timberwolves, that he annihilated the starters on a group of practice squad members during a scrimmage. He even sensed the dysfunction with the Philadelphia Sixers, far before Ben Simmons opened up on similar gripes. He has since made the NBA Finals twice with the Miami Heat. 
Anthony Davis gave the New Orleans Pelicans seven years of his prime. In that span, New Orleans paired him with players like Jrue Holiday, Demarcus Cousins, and Julius Randle in search of a reliable co-star. Instead, the team only made the playoffs twice. Jrue went on to greener pastures with the Milwaukee Bucks. Cousins and Randle were washed up. Davis engineered his move to the Los Angeles Lakers, winning the championship in his first year in the purple and gold. 
Ben Simmons was openly criticized by both his GM, coach, and co-star Joel Embiid after losing in the playoffs due to mental health issues and injuries. Instead of supporting their claim, they dismissed him, vocally lambasting his lack of focus. Why would anyone in a workplace want to return to that kind of toxic environment? Simmons sat out the next year, losing tens of millions in the process, to force the organization's hand. He has yet to suit up with the Brooklyn Nets; they are a top-three squad likely to win the Finals this year, as per oddsmakers. 
Player Empowerment Relates to Business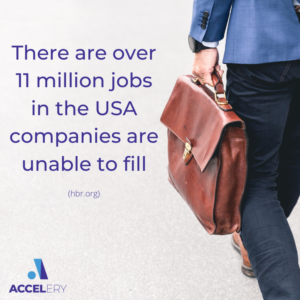 Businesses are experiencing the impact of "the Great Registration," aka, "The Big Quit." Over 40 million people voluntarily quit their jobs last year, and there are over 11 million jobs open that companies are unable to fulfill. Each time a person voluntarily quits their job, it costs a company, on average, over $11,000. If The Big Quit continues at the current pace, it may cripple several industries and put many corporations out of business. To curve the trend, businesses can look to pro sports.
Many pro sports leagues, in particular the NBA, took a lot of heat for what was seen as caving to players' demands, and for coddling the players. But, the NBA, and pro sports, remain strong with growing revenues. The NBA is looking at a new TV deal that will likely exceed 75 million, and both players and owners are wealthier than ever. How did they avoid the fate that many other industries and businesses are experiencing?
Pro Sports Listened to their Employees
Pro sports leagues, most notably the NBA, avoided The Great Resignation in part because there is not a viable option for players to go to besides the USA pro-sports-based leagues, but also because the leagues listened to their employees, they listened to the players.
In a world where anyone can share their workplace unhappiness with the sending of a single Tweet, NBA and pro sports players have made their workplace and contract complaints well known. The leagues that are experiencing the best success have listened. While the specific demands of the players may not seem like apples to apples with employees in a corporation's concerns, the root of their demands is similar.
Players demanded more flexibility. For players, it was with their contracts. They also demanded flexibility in picking where they train, when they train, and who they train with. Employees in companies are demanding flexibility too. Many want an option to work from home. Flexible work schedules are another common demand.
Player and Employee Recognition
Another demand for players was to be fairly compensated when their performance outweighed their pay. This gets contentious when players are under a long-term contract, but pro sports franchises have been quick to respond to these demands. In most cases, teams have worked with players to renegotiate their contracts so that the player feels fairly compensated. In cases in which an agreement can't be made, teams most often arrange an agreed-upon exit in which a player gets traded to a team of their choice.
While companies can't trade employees, there are still lessons to learn. Pro sports teams frequently check in on players' happiness with the team. They conduct end-of-season exit interviews each year, and typically schedule monthly meetings between management and player or their agents and they keep that line of communication open. Even when agreements can't be reached, the mutual ending of the contract or trading a player to their destination of choice keeps other players on the team happy knowing that the leaders and ownership of the teams listen to the players and keep their best interests in mind.
Companies need to check in with their employees. And, when employees are unhappy, companies need to be willing to be flexible to meet the demands, or some of the demands, of the employees. The mere openness to listen to employees and consider their demands, even if fulfilling all their demands is not feasible, demonstrates valuing employees, and not only will that employee notice that, but other employees will also notice.
Businesses need to learn from professional sports leagues and franchises. Employees drive the success of a business. If a business does not hear and listen to its workforce, its workforce will underperform or quit. See Ben Simmons for an example.