For over 20 years, Microsoft has consistently topped the list as one of the most valuable brands in the world. Overall, it ranks third overall, behind only Apple and Google. 
The American multinational technology company manufactures, licenses supports and sells computer software and services. In particular: the Microsoft Windows line of operating systems, Microsoft Office, and Internet explorers on the best-known software products. 
It is one of the Big Five American information technology companies, joining only Google, Amazon, Apple, and Meta to receive such recognition. 
If you were around in 1986, you're probably kicking yourself today. One share of Microsoft stock for $21 is worth $14,990 today — a whopping 71,283% increase over 30 years. 
But don't worry, you can probably catch the next boat. Microsoft stock has already increased 240% in the last three years, with gains expected to continue with perpetual evolution in their cloud computing space. 
Microsoft Origins
The company was originally started in 1975 in Albuquerque, effectively beginning the entrepreneurs operating out of their garage stereotype. Founded by Bill Gates and Paul Allen, the self-proclaimed 'computer geeks' called their company "Micro-Soft", a combination of "microcomputer" and "software". Less than a year later, Microsoft opened its first international office in Japan. 
The 1980s
In 1980, Microsoft's first operating system was publicly released. Xenix was soon replaced by MS-DOS, which was later sold to IBM; Gates retained the rights. This partnership proved crucial to Microsoft's development; every IBM Computer sold had to pay a royalty directly back to Allen and Gates. Three years later, the company's crowning jewel was revealed. The Microsoft Windows operating system jumpstarted the company into going public. 
The following decade saw a shift in the company's strategy. Before, Microsoft was predominately a supplier to hardware manufacturers. With technological advancements, coupled with the rise in personal computer demand, the bulk of Microsoft's sales turned toward direct sales to the consumer. Soon, it became the first software company to reach $1 billion in revenues. 
The 1990s
The '90s saw the release of both Microsoft Office and Internet Explorer; the next century was highlighted by the company's first gaming unit Xbox, mobile devices (HTC, LG, and Samsung), and the Microsoft Surface.
The 2010's saw numerous acquisitions to leverage their varied market shares. In 2014, Microsoft acquired Mojang (the creator of the Minecraft video games) for $2.5 billion. Additionally, it acquired LinkedIn for $26.2 billion in 2006. In 2011, Skype was acquired for $8.5 billion, in hopes to compete with Apple's FaceTime and Google's Voice. The company's latest acquisition was Blizzard (the creators of World of Warcraft, Call Of Duty, etc) this year for $68.7 billion. The acquisition will make Microsoft the third-largest gaming company by revenue, behind only Tencent and Sony. 
Throughout its 46-year history, Microsoft has acquired over 200 companies. In addition to this, Microsoft licenses to enterprises through 120 regional subsidiaries in 170 countries worldwide.
Competition Analysis
Microsoft Corporation's primary competitors include prominent technology companies across the industry. The list includes global brands: Apple, Google, IBM, and Oracle. Their competition is split into different forays, including the PC market, gaming hardware, technologies, and software development. 
Windows currently dominates the desktop OS segment with 73% market share, leading Google Chrome (10.8%) and Mac OS (7.5%). However, in the Search Engine market, Microsoft Bing (5.63%) is dwarfed by Google (88.52%). 
Microsoft's main business strategy is broken into the following three subcategories: intelligent cloud (currently trails only Google), personal computing (OS industry leader), and productivity/business processes.   
Microsoft Current Valuation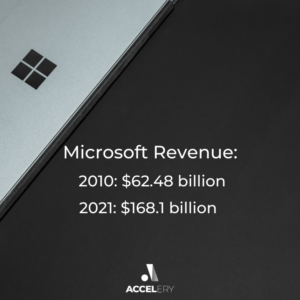 After originating in Washington, the company is still based there. Microsoft's headquarters are currently in Redmond, with international offices all over the world, extending its reach as a global technology corporation. 
In 2010, the company's revenue was $62.48 billion; 2021 saw earnings of $168.1 billion — the 21st most according to Fortune 500.
Based on their Q2 FY 2022 financials, 35% of their revenue was derived from their Intelligent Cloud, 34% from more personal computing, and 31% productivity and business processes. 
According to long-term forecasting, stock prices will peak at 900 in 2031; the current 2022 stock price is a little over $280. 
Digital Transformation
Over the last decade, Microsoft has expanded its intelligent cloud by 29%. Cloud computing is the future of all technology, attracting several software companies to its unclaimed potential. In 2011, Office 365 — a cloud version of Office — was released with Word and Excel cross-compatibility. A cloud-first, Mobile First strategy is implemented through Azure, which competes directly with industry-leading Amazon Web Services and Google Cloud Platform. 
Azure is currently in 54 regions worldwide, with 140 datacenters and in 140+ countries. It is connected by enough fiber to stretch to the moon and back thrice and consists of millions of servers that are 100% carbon neutral (44% of energy derives from wind, solar, and hydropower). Currently, a majority of Fortune 500 companies use the Microsoft cloud. 
Intelligent Cloud Segment
The intelligent cloud segment comprises all of Microsoft's public, private, and hybrid server products, generating $18.3 billion in Q2 FY 2022 — a remarkable 25.5% leap from the year-ago quarter. According to Statista, Amazon Web Services holds a slight edge (31%) in comparison to Microsoft (22%).  
Are you interested in seeing the revenue growth and digital transformation success of other large USA companies? Then make sure to read "8 of the Big USA Business Transformations of the Last Decade."