It all started as a bookseller's pipe dream. 
The biggest e-commerce marketplace and cloud computing platform worldwide has been ordered by nearly every home, at least once. In its 25 years of creation, the website fields more than 200 million people monthly — more than the entire population of Russia.
Amazon is the fourth company to reach a $1 trillion market cap, and is breaching the $2 trillion threshold.  It will join only Microsoft and Apple in that category. Apple, first closed at the $2 trillion thresholds on Aug. 20, 2020 and Microsoft did so on June 24, 2021. Amazon will be the fastest to go from $1 trillion to $2 trillion.
By September 2021, 65% of Amazon customers held a  yearly membership to the site. 
The company runs two models for business: both first-party and third-party reselling, alongside providing subscription services and owning numerous companies.
Stock prices — currently priced around  $3,500+ a share — are forecasted to be $5,000+ in 2030, with generous predictions seeing increases up to $7,000+.  
Origins of Amazon
Even though it started as an online bookstore in 1995, creator Jeff Bezos always pictured it as an "everything store" — quickly adding other items across the e-commerce platform. That included everything from a Dewalt screwdriver to a giant plush Pokemon Pikachu stuffed critter (see this delightfully '90s picture here). 
The previously named "Cadabra" evolved into "Amazon", based on the largest river in the world, capable of reaching everyone across the earth. 
For the first decade and a half of its existence, Amazon was considered a low-profit venture. Bezos reinvested most of the profits back into the company. 
By the beginning of the century, Amazon had its own distribution hubs; it wasn't until later in the 2000s that the company started its own delivery services. New ways to generate revenue were considered during this transformative decade for the company, including hardware (Kindle in 2007), streaming (Prime in 2005) electronics (Echo in 2018), and acquisitions. Chiefly, this last ideation has made the retailer a company gobbler. 
Across the Amazon arsenal, the company has invested in at least 128 companies over the last two decades. These include: artificial intelligence inventions, cloud computing, financial services, clothing, accessories, hardware, food and beverages, media production, publishing, social networking, and transportation. In fact, there isn't a market sector that the company hasn't considered merging or acquiring. The biggest ones by cost value include: Whole Foods ($13.7 billion), Metro-Goldwyn-Mayer ($8.5 billion), Zoox ($1.2 billion), Zappos ($1.2 billion), and Ring ($970 million). 
Bezos stepped down as CEO in Q3 2021, but still operates as the largest shareholder, holding more than a 10% stake in the company.
Amazon's Competition Analysis
In 2020, Amazon was ranked first in company revenue among global publicly-traded internet corporations. The closest competitor was Google ($181.7 billion) and Alibaba ($109.5 billion). In terms of revenue, it is the third-largest public company in the world, behind only Walmart and China's Petrochemical Corporation. 
Though they dominate a large chunk of the market share, top competitors include: online stores (21% of total retail sales), eBay (which saw its best net revenue since 2013), Walmart (the primary rival, although Wally World has a 30-year edge in terms of brand loyalty), and Alibaba (cloud computing is on a 60% year-on-year rise). 
Current Valuation
 of Amazon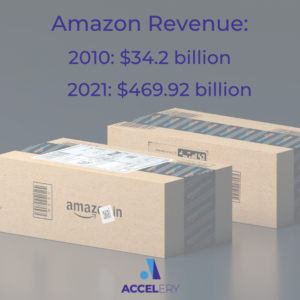 Amazon is an e-commerce e-platform that offers infinite consumer goods, streamable content, web services, perishables, consumer electronics, gaming, etc. The list is too lengthy to fit in this blog post. 
The company started Amazon Web Services (or AWS) in the early 2000s. The subsidiary provides on-demand cloud computing platforms on a pay-as-you-go basis. There are 200 cloud services available, all without any long-term contracts or complex licensing. 
Amazon headquarters are currently in Seattle, with 235 additional office locations across 36 countries. 
Amazon is one of the world's most valuable brands and is a Big Five American IT company — alongside Alphabet, Apple, Meta (formerly Facebook), and Microsoft. Amazon Prime alone has over 200 million subscribers worldwide. The company is the second-largest private employer in the United States.  
In 2010, the company's revenue was $34.20 billion; 2021 saw earnings of $469.82 billion. Based on their Q4 FY 2021 financials, the United States was the company's biggest market with $314 billion. Germany ranked second ($37.3 billion), followed by the UK ($31.9 billion) and Japan ($23.07). 
The company recently announced suspending shipments and Prime Video streaming to Russia, in protest to the country's invasion of Ukraine. Their losses were recuperated by adding a focus on Western European expansion, increasing their workforce and logistics across the region's network. 
Digital Transformation
Over the last decade, Amazon has increased their web services by 11%. As consumers and trends shift, Amazon was an industry leader in adapting to predicted behaviors. In 2021 Q4, AWS generated $17.8 billion, reporting a 40% growth year-over-year. It's the industry's largest cloud computing provider, earning more revenue the last quarter than any previous quarter in history. The cloud vendor is currently battling to keep its dominant market share. New customer partnerships — including American Express, Toyota, and United Airlines — made AWS twice as large as its nearest competitor Microsoft Azure. 
The unit concluded the quarter with $5.29 billion in operating income, a 49% increase. 
However, both Azure and additional rival Google Cloud grew faster in their fourth quarter in year-over-year, respectively. To further their development, AWS announced that it will update the useful life of its servers, from four to five years. Additionally, networking equipment increased from five to six years.