Transformation can be an intimidating process. After all, it's very challenging to disrupt the status quo. And, to successfully transform, you need the people within the organization to be on board and drive the change. When creating alterations in a large company, uncertainty can often be conveyed by employees comfortable in the familiar. Straying from the set path can fester discontent, and potentially result in failure. 
In a digital age, transformation is a necessity. To keep up with an ever-evolving digital world, isolationism and resistance to integrating fundamental technologies is a dire mistake. Those that don't prioritize social capital enablement and digital transformation will fall behind, or even worse, go out of business. 
Global companies have been quick to spearhead high-impact business transformations over the past decade. Instead of relying on exclusivity in satisfying shareholders, they have adapted an overarching view to serve society through innovation practices. New growth-digital changes were prevalent in the following 8 Most Significant USA Business Transformations Of The Last Decade: 
Netflix
The subscription streaming service and production company was launched on August 29th, 1997 by Reed Hasting and Marc Randolph in Santa Cruz County. The idea was sparked by outlandish Blockbuster late fees. Their headquarters are currently in Los Gatos, with international offices in Asia, Europe, and Latin America. 
Netflix is the top video stream service in the world, boasting subscribers in 190 countries. In 2010, the company's revenue was $2.16 billion; 2021 saw earnings of $29.7 billion.
Biggest Strategic Transformation: Over the last decade, Netflix has expanded its original content by 44%. 
Amazon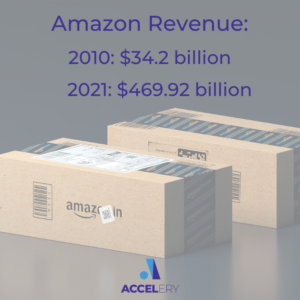 The e-commerce website was launched on July 5, 1994, by Jeff Bezos in Bellevue. Originally a bookselling platform, it expanded to every product category on a mass scale, earning the moniker Store. Their headquarters are currently in Seattle, with international offices in 14 different countries. 
Amazon is a disruptor of established industries; in particular, technology and retail. It is the second-largest private employer in the United States. In 2010, the company's revenue was $34.20 billion, increasing to a whopping $469.82 billion in 2021. 
Biggest Strategic Transformation: Over the last decade, Amazon has expanded its web services by 11%. 
Microsoft
In 1975, childhood friends Bill Gates and Paul Allen founded their multinational computer technology corporation in Albuquerque. Microsoft relocated to Redmond in Washington, eventually expanding to a global technology corporation. The location has been their headquarters
The software developers produce electronics, consoles, computers, and related services. In 2010, the company's revenue was $62.48 billion and earned $168.1 billion by 2021 — the 21st most according to Fortune 500 ranking. 
Biggest Strategic Transformation;  Over the last decade, Microsoft has expanded its intelligent cloud by 29%.
Adobe
Adobe started out in 1982 at a Xerox research center in Mountain View. When Xerox declined the creation, originators John Warnock and Charles Geschke released PostScript and saw it quickly licensed to Apple the following year. The company is currently headquartered in San Jose. 
The obligatory editing software for all creators is expected to eclipse 20 million users by 2024. By utilizing a subscription model, the company increased its revenue from $3.8 billion (2010) to $15.79 billion (2021). 
Biggest Strategic Transformation: Over the last decade, Adobe has expanded their digital experiences by 27%. 
A.O. Smith
The oldest company on this list, A.O. Smith was founded in 1874 by Charles Jeremiah Smith; it was originally a baby carriage and bicycle parts manufacturer. It evolved into the largest bomb maker in the United States by the end of World War I and ranked 74th among corporations in World War II production contracts. After acquiring The Burkay Company, A.O. Smith entered the commercial water heater market in 1948. They are currently headquartered in Milwaukee and have 24 locations worldwide. 
A.O. Smith is the largest manufacturer and marketer of water heaters in the United States. Their 2010 revenue was $1.49 billion and increased to $3.54 billion in 2021. 
Biggest Strategic Transformation: Over the last decade, A.O. Smith has expanded their water technology by 100%. 
Intuit
Inuit was conceived by Scott Cook and Tom Proulx in 1983. The company was originally founded in a meeting room on University Avenue in Palo Alto. They are currently located in Mountain View. 
Intuit is a global technology platform that specializes in financial software. Products include TurboTax, QuickBooks, Mailchimp, Credit Karma, amongst others. Revenue increased from $3.4 billion (2010) to $9.63 billion (2021). 
Biggest Strategic Transformation: Over the last decade, Intuit has expanded their online ecosystem by 14%. 
Cisco
It's all in the name. 
Short for San Francisco, the company was started by Stanford computer scientists Leonard Bosack and Sandy Lerner in 1984. As tech market specialists, Cisco was integral in the Silicon Valley boom. Recently, it was listed as the #1 place to work by Fortune. 
Its technology specialization includes networking hardware/software, cyber security, and telecommunications equipment. Currently, they operate out of San Jos;e. Revenue went from $40.04 billion in 2010 to $49.82 billion by 2021. 
Biggest Strategic Transformation: Over the last decade, Cisco has improved their subscription applications by 43%. 
Dell
The computer hardware company has always been a mainstay to the Lone Star State. Conceived by UT students in the state's capital by Michael Dell, they eventually relocated to the outskirts of Austin in Round Rock. Dell evolved into one of the largest technology corporations in the world. 
Dell sells personal computers, data storage, printers, and all other electronics associated with PC's.  A decade ago saw $52.90 billion in revenue; last year, Dell earned $94.22 billion. 
Biggest Strategic Transformation: Over the last decade, Dell has improved their infrastructure and security by 51%. 
Corpoate Transformation
All of the companies mentioned above are either leaders in the digital world or companies that have made significant financial and human capital investments in digital change. In subsequent blog posts, we will take a closer look at each company and the biggest strategic area of transformation that propelled their growth and made them leaders in the new digital era.