You can't mention digital transformation without Instagram. The photo-sharing app is the second-largest social media platform in the world and has attracted the addiction of all anointed 'Instagrammers' to its accessible and scrollable design. The layout's creativity seems very normal to us now, but revolutionized the picture swapping experience. 
Think about it. The filters. The square-format pictures. The amateur food, model, and nature photography that clutters a feed. All of this has only been around for a little over a decade. 
Over the years, Instagram has expanded to include multimedia and shareable content from outside the network. The sheer mass of users (1 billion and counting), coupled with the burgeoning Meta Platforms, permits an extensive advertising audience in the digital age. With a built-in audience and devoted followers that adhere to pushed posts, the social media platform is a necessity in an ever-evolving digital advertising landscape. 
There are several reasons for Instagram's success. They keep it simple, focusing only on picture and video content. A lack of ads, including a ban on pop-ups, is a desirable trait of the app. 
Most importantly, it's absolutely free to use.  
The Origin Of Instagram
It all began as a part-time project by wannabe coder Kevin Systrom, who paid his bills in the daytime as a product manager for a startup. The HTML5 prototype was called Burbn — a multifaceted app that saw user post their beverage plans and check-in at bars. The platform quickly moved to coffee photos, dog photos, selfies, and slice-of-life pictures. Scrapping Burbn, the newly anointed Instagram was released in October 2010. 
The original about us cited old Polaroid cameras that marketed themselves as 'instant' as the inspiration for the app, sharing the magic of a produced image. The first product was for iPhone only.  
Unlike contemporaries Facebook and Snapchat, Instagram was a bonafide hit from its first launch. Over 25,000 users registered on the very first day. In just two months, the company saw one million members. Half a year later, the 150 millionth photo was uploaded. All growth was organic without the aid of advertisements. 
In early 2011, the company raised roughly $7 million from investors, including benchmark capital. Hashtags followed shortly after.
After declining a $500 million stock offer from Twitter, Instagram was released for Android phones in April 2012, earning over one million downloads in a day. They also accepted an additional round of funding for $500 million.  
Growth
 Of Instagram
The year 2012 was a turning point for the company. Competitor and industry leader Facebook purchased the app for $1 billion in April for cash and stock, permitting that the company remains independently managed. The company went public at $42 dollars a share a month later. The total registered users were only 25 million — a minuscule fraction compared to their buyer's hundreds of millions of users. At the time, Instagram was still not bringing in any revenue and was operated by only 13 employees. 
In September 2015, Instagram ads launched globally, followed by an announcement that feeds would change from chronological to algorithmic. The next year saw the introduction of IG business pages and the popular 'Stories' tab, that stretched horizontally across the layout.   
One billion active monthly users were met in June 2018, but saw the departure of Instagram's original founder at the end of the year, owing to the gradual erosion of autonomy from Facebook founder Mark Zuckerburg's attentive supervision. 
After several updates, the app now has numerous components, including direct messaging, boomerang, live broadcast, and reels. 
Monetization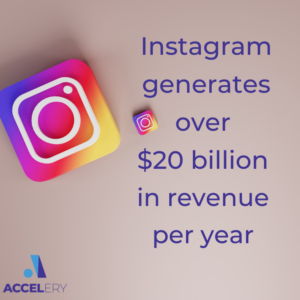 Parent company Facebook has not given a breakdown of Instagram's standalone revenue in its financial reports. However, as per Bloomberg, Instagram brought in $22.2 billion, a quarter of the social media giant's reported annual revenue of $85.9 billion last year.
Of course, accessing Instagram is free of charge — so, how does Facebook make money? 
Digital Advertising — feature ads are seen on feeds, stories, the explore tab, and reels. Formats include photo, video, collection, and shopping ads. Similar to YouTube and Twitch platforms, Instagram shares a cut of ad revenue with creators. 
Shopping Tools — introduced in 2016, Shoppable posts allowed brands to tag products in the same way that users tag their friends. Those who clicked are remaining in the app to make a purchase, giving Instagram a cut of the sale. Sellers are charged a fee. 
Role In Business
Appealing to an attention deficit marketplace isn't easy. The consumer is pushed and pulled in so many different ways, and that makes it difficult to capture their interest. In terms of visibility and presence, businesses can do no wrong by utilizing Instagram. Over 500 million people are on the network on a daily basis, averaging 30 minutes of scrolling. Of mobile users, 90% of their time is spent on engaging within apps. Reportedly, a remarkable 72% of users have reported purchasing a product through the social media platform at least once. 
According to Instagram, 850 million people are reached using their advertising platform globally, utilizing tools that adhere to a targeting strategy. In comparison to Facebook, ad spending on Instagram is 23% higher. 
Digital Transformation
To the average consumer, visual advertising leads on preference charts. Instagram offers a plethora of options to attract eyeballs, with a database of almost 70 million photos and videos on a daily basis. Effortless incorporation of both brand awareness and new product introduction in the feed provides authenticity that customers appreciate. 
Because of their involvement in the recently established Meta Platforms, Instagram is part of several smart tech acquisitions made over the last decade by Facebook. Their fellow apps include WhatsApp and Oculus. Meta platforms now control over a quarter of all online advertising on the planet.
What It Means For Your Business
Instagram is not going anywhere anytime soon. It continues to add more options for businesses, especially those in e-commerce. And, it is where your employees will spend more time online than almost any other network, besides YouTube. There is value in the network beyond promoting or selling products and services, such as using Instagram for recruiting. Instagram is something worth spending a bit of time on incorporating into your digital strategy.