It was originally an idea to help small businesses manage their finances.
Today, Intuit has 15 million customers and 3,500 dedicated employees. A leader in e-financing, the company's products have been providing financial resources and destinations since the early 1980s, benefiting everything from banks to tax agencies. 
The company is a leader in both personal finance software and is the go-to platform for a wide range of digital financial services. Interconnection has always been a crucial part of Intuit's strategy, bridging all aspects of a customer's financial life.
Their business model is threefold as follows: 
Continuous strategy reboots to adhere to consumer and market trends.
Voluntary transformation and disruption to products to remain timely and competitive.

 

Repeated internal and external review to process for preempting competitors.

 
Stock prices — currently priced around $422 a share — are forecasted to be $922 by 2027, with generous predictions seeing increases over a grand. 
Intuit Origins
Intuit was the brainchild of entrepreneur Scott Cook, who founded the company with Tom Proulx in 1983. While paying bills with his wife, Cook was struck with the idea of managing the hassle of bill paying through automation. Proulx was discovered after Cook posted an advertisement searching for a programmer. Though not a groundbreaking idea at the time, Cook stood out from other competitors because of his educational background at Harvard. 
The initial program took three years to launch, with Proulx handling software tinkering and Scott providing the consumer marketing. Two years later, the company was over $300,000 in debt, before changing their strategy and marketing directly to consumers. During the end of the decade, Quicken became one of the bestselling software applications in the world. Sales peaked at $55 million in 1991, thanks to financing by venture capital companies including Sierra, Technology Venture Investors, and Kleiner Perkins Caufield. 
The 1990s
The start of the 1990s introduced QuickPay, QuickBooks, and Quicken, effectively dominating the stand-alone personal and small-business financial software sphere. A failed merger with Microsoft had Intuit return its attention to a  growing array of products — in particular, internet opportunities. At the end of the decade, nearly 300,000 federal tax returns were completed and filed through the company's services online. 
It took another ten years before annual revenue peaked over $1 billion. 
2012 to Present
In 2012, the company expanded a cloud-based software delivery model into international waters. At the time, Amazon Web Services and Microsoft Azure were still in their infancy. By investing into mobile accommodation, Intuit provided a consistent worldwide user experience in their affordably priced SaaS offerings. Five years ago, the company reallocated $1 billion – or one-fourth of their operating expenses — into AI and machine learning. As per their website, "our strategy is to be an AI-driven expert platform". 
Competition Analysis
Before January 2019, the tax software company had only made a single $1 billion acquisition its it's near 40 year history. To keep up with competitors, Intuit went on a spending spree that year, involving themselves in two of the top 10 biggest U.S. tech deals over that respective stretch. It closed buys with personal finance company Credit Karma ($8.1 billion) and email marketing provider Mailchimp ($12 billion). According to Intuit CEO Sasan Goodarzi: "These two were really essential for us to reposition the company for the future". 
In 2020, Intuit was ranked seventh in the largest software companies in the world by revenue. Leading competitors included Microsoft (50.4%), Oracles (16.9%), SAP (12.4%), Salesforce (5.7%), Adobe (4%), and VMware (3.8%). 
Intuit was ranked on Fortune's List of 100 Best Companies to Work for this year at #11. 
Intuit Current Valuation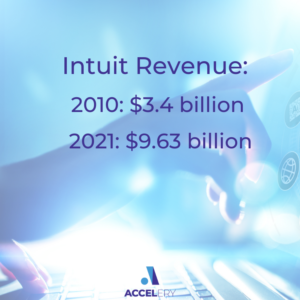 Intuit is a global technology platform that powers the prosperity of consumers and businesses.
The company generates 50% of revenue from small businesses and self-employment via the QuickBooks services. They also encourage companies to build software on top of their programs, effectively enhancing their switching costs through their developed, open platform. An additional 41% of revenue comes from consumer offerings, which includes softwares like TurboTax. When examining their long-term prospects, the company is expected to average 10% growth over the next five years. 
Intuit is headquartered in Mountain View, with 10 additional office locations across San Francisco, New York, San Diego, Nevada, Texas, Idaho, and Virginia.  
In 2010, the company's revenue was $3.5 billion; 2022 saw predicted earnings of $12.6 billion.
They are a Forbes Top 150 company in terms of valuation. 
Intuit Digital Transformation
Over the last decade, Intuit has increased their online ecosystem by 14%. Over the past few decades, the company has successfully anticipated major disruptions in its market. Intuit offered QuickBooks Online and TurboTax through a subscription plan, integrating both the tax process and small business personalization seamlessly. 
Specifically, their QuickBooks Online service connects dozens of time-saving services and apps with integrated features. Ecosystems naturally create better functionality in business via timesheets, project management, and inventory that leads to new revenue streams. A handy digital review system identifies potential issues before consumers pay for and download the app fleet. 
New products and services have increased the company's value;  the unit saw 22% growth of revenue last year, driven primarily by customer growth and mix-shift. Online services revenue grew to $614 million (up 121%) driven by the addition of Mailchimp and the growth of QuickBooks Online. 
Learn More about Digital Transformation
Are you interested in learning about other companies that have implemented successful changes to transform their business and increase revenue? Then read, "8 Significant USA Business Transformations."