Who doesn't have Netflix? The go-to streaming service has an impressive subscription base that makes up 10% of the world's population. Remarkably, it eats up about 15% of the world's internet bandwidth. 
And, this doesn't even include people mooching off other people's accounts. 
Netflix remains the leader in over-the-top space — or the average time spent on apps or video services. Available in 190 countries, it is growing steadily throughout all regions, with 670.7 million viewers expected by 2024.  
Netflix Origins
The company was originally established on August 1997 in Scotts Valley, California. Serial entrepreneurs Marc Randolph and Reed Hastings got the idea after being fed up with Blockbuster late fees. They brainstormed the alternative rental system on their daily commute; at the time, Randolph was working as a marketing director for Hasting's company Pure Atria. Hasting's sold the company in 1997 for $700 million, eventually providing $2.5 million in seed capital for their startup, which directly reflected Amazon's e-commerce model. 
Mail-order DVD rentals cost $4 each, including an additional $2 postage charge. Users were allowed to keep their rentals for as long as they wanted, but could only rent new ones after returning their present selections. Their subscriber-based business model launched a year later, allowing unlimited rentals for a set cost.  
With a membership totaling 600,000 stateside, Netflix went public in 2002 with stocks at $15 a share. It's been a fairly stable option ever since, consistently ranking as one of the best-performing stocks in the S&P 500. Each sequential year saw a doubling in subscribers. 
Their original streaming service, called "Watch Now", came out in 2007 with just 1,000 titles. It only worked on PC and Internet Explorer, limiting the number of hours of free streaming to 18 a month. Accessibility expanded to video game systems, Blu-ray players, and Smart TVs the next year. Six years later, Netflix became an award-winning contender with 31 primetime Emmy nominations for their initial dabbling in original content. Through the present day, the streaming service has expanded into international territories and become eligible for Academy Award consideration. 
Competition Analysis
In an example of a terrible business decision, Blockbuster was approached by Netflix in the year 2000 about a potential partnership. In a follow-up attempted transaction, The video rental company declined. In a follow-up attempted transaction, Netflix also offered to sell the company for $50 million. Again, their competitor refrained. Blockbuster filed for bankruptcy in 2010 and is currently out of business. Now, Netflix has more formidable competition, though they still lead the pack in terms of streaming video entertainment. Their rivals include The Walt Disney Co, Disney +, amazon.com Inc.'s Prime Video, Apple Inc.'s Apple, and NBCUniversal Peacock. 
Current Valuation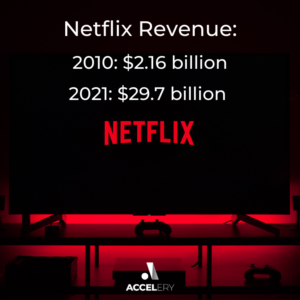 Netflix offers television series, documentaries, and feature films on demand. They have recently branded out to a wide range of mobile gaming. The latter is the result of a $71 million acquisition of Next Games this month. 
Their headquarters are currently in Los Gatos, with international offices in Asia, Europe, and Latin America. 
Netflix is the top video stream service in the world, boasting subscribers in 190 countries. In 2010, the company's revenue was $2.16 billion; 2021 saw earnings of $29.7 billion. Unlike other media companies, Netflix has a single source in revenue via subscriptions. They do not sell ad space or user data. 
Based on their Q4 FY 2021 financials, the United States and Canada eat up the majority of market share (43%), followed by Europe, the Middle East, and Africa (33%). 
The company recently announced pulling out of Russia in protest of the country's invasion of Ukraine. Their losses were recuperated by adding a focus on the Asia-Pacific region — the fastest-growing geographic segment in 2021. 
Digital Transformation
Over the last decade, Netflix has expanded its original content by 44%. As consumers and trends shifted, Netflix was quick to adapt to predicted behaviors. After starting with its mail-order DVD service, the company endured a successful business transformation by putting its heads in the cloud. Ditching direct mail as niche and outdated, the company turned to the world of streaming video, finding exponential growth in subscribers and revenue, as a result of digitizing. Data was utilized to determine trends in viewership and how personalization could be vital in fueling content absorption. 
However, they weren't the first. 
Competitor Blockbuster introduced the same idea in the early 2000s. It was a concept ahead of its time; prospective customers struggled with functionality during a time when broadband was in its infancy and dial-up connections were the norm. When Netflix proposed the concept, the internet was modernized, permitting streaming movies and series online without buffering issues. 
Engaging in cloud-based business permitted global offerings and saved considerably on international shipping. The accessibility of mobile phones and tablets permitted Netflix to be with its customers at all times. This allowed accessibility across all devices. Additionally, the downfall of movie theaters during the pandemic increased viewership on the streaming service exponentially. An initial offering for streaming in 2007 saw 7.48 million subscribers. Since then, 221.8 million people have had an account. The company has put over 15 billion towards creating original content through its production studio.