This is the last blog post in our series of "8 Significant USA Business Transformations." We took a look at eight of the biggest USA based companies that had the biggest increase in revenue over the past ten years. We found that all ten had gone through major digital transformation and that corporate digital change was responsible for a significant part of their revenue growth.
Significant USA Business Transformation: Dell
A manufacturer of computers, network servers, and digital services, Dell is one of the largest technology companies in the world. Primarily, Dell's legacy is a business selling consumer PCs — the main driver of their products. The product line includes desktop PCs, laptops, printers, monitors, televisions, cell phones, and camcorders. 
Even though the PC market continues to flatten in recent years, Dell has consistently maintained its expanded market share. Overall, the company ranks 34th overall on the Fortune 500 List, has 157,000 employees, and operates in 24 countries with over 30,000 unique stores. 
Throughout the world, Dell is responsible for 19.7% of all global PC unit shipments. 
Dell Origins
The computer hardware company has always been a mainstay in the Lone Star State. Conceived by a UT student in the state's capital, Michael Dell ran the business out of his dormitory. The headquarters remain there to this day. 
The company got its start by providing customized upgrades for PC. Soon, Dell dropped out of college and focuses full-time on building PCs, selling his creations through ads and mail-order catalogs. Dell also prioritized customer service, distributing technicians to service the early models and provide risk-free returns.
The first computer of its own design was titled the "Turbo PC", selling for $795 — much lower than other retail brands. Unlike competitors at the time, Dell went on to sell hardware, offering a wide variety of electronic devices. 
In 1988, Dell Computer Corporation went public, and grossed $73 million in the first year. The same year, the company went global, and Dell established operations in Britain. By the following year, market capitalization grew by $50 million. 
The next decade began with Fortune magazine including Dell in its list of the world's 500 largest companies; the founder was honored as the youngest CEO of a Fortune 500 company in history. In 1994, the reseller channel was briefly considered. Instead, the company opted to be a pioneer in e-commerce, selling one million per day of equipment two years later. The same year, Dell began selling computers through their website, shipping its 10 millionth system a little over a year later. By the turn of the century, Dell finally surpassed Compaq as the largest PC manufacturer in the world.
As of this year, Michael Dell is one of the richest people in the world, with a net worth measuring at $50 billion. 
Dell Competition Analysis
Because Dell has used their direct strategy since conception — bypassing retail stores and system integrators — they are able to offer dramatically lower prices. As a result, it holds a 17.9% share of the world PC market, growing much faster than competitors Hewlett-Packard and IBM. 
The closest competitors in market share in the PC sector include Lenovo (the top earner; 24.8%), HP Inc. (22.8%), Apple (7.5%), Asus Inc (5.8%), and Acer Inc (5.7%). Overall, Dell ranks third among that group in global market share (17.2%). 
In the infrastructure arena, Dell's main rivals in market share are Hewlett-Packard Enterprise Co. Lenovo, Cisco, and Inspur. Dell is comparative to Hewlett-Packard as the market leaders. Of all the rivals, Dell remains the youngest in comparison to origination.  
Dell Current Valuation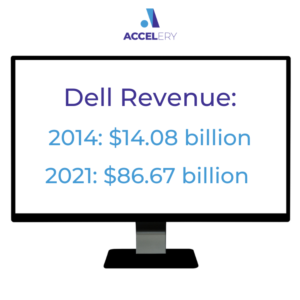 When the company originally went public, shares were priced at $8.50. Dell Technologies is now worth $31.61 billion, with shares priced at around $43 a share. According to this year's Q1 results, the company saw 16% growth across Infrastructure Solutions Group and Clients Solutions Group, as well as increases in year-over-year and recurring revenue. 
The largest shift occurred in 2015, when Dell announced its intent to acquire EMC Corporation — an enterprise software and storage company. The transaction came with a hefty $67 billion price tag. At the time, according to the Wall Street Journal, Dell had revenue of $27.3 billion from personal computers and $8.9 billion from servers; EMC had $16.5 billion from EMC II, $1 billion from RSA Security, $6 billion from VMware, and $230 billion from Pivotal Software. 
Because EMC owned around 80% stock of VMware, the acquisition maintained it as a separate company. As of last year, Dell Technologies spun out its remaining VMware shares to shareholders. 
New Growth Transformation of Dell
Over the last decade, Dell has improved their infrastructure and security by 51%. According to the company's Q1 annual report, their infrastructure recorded revenue of $9.3 billion. More than 500 storage software advancements across multiple platforms help Dell customers deliver quicker insights, achieve better multi-cloud data control, and increase cyber resiliency. Under its infrastructure, Dell provides a range of hardware and services; this sector includes data storage and protection, servers and networking — including cloud-based solutions. According to the company's website, almost 80% of organizations are now reinventing their business model as a result of the pandemic, fast-tracking digital transformation. Due to this, scalable IT infrastructures were implemented for contingencies, delivering digital experiences for customers and team members by implementing data in new ways.  
It shouldn't come as a surprise that the United States dominates the cloud universe, with just over half of the entire world. The industry of infrastructure-as-a-service measures $126 billion, with Dell contributing heavily to data center hardware and software markets.