For nearly 40 years, Cisco has produced uniform hardware and software components that can effortlessly adapt across a different product ranges. The multinational technology conglomerate offers various customer networking services: including data centers, security solutions, cloud, and collaboration. In other words, anything that allows users to modernize their IT structure. Operating worldwide, the American technology company mostly sells its products to other businesses, transforming themselves into one of the largest corporations in the country in the 21st century. Currently, nearly 85% of global Internet traffic runs through Cisco's networking products. The leading networking equipment manufacturer has maintained its leadership through introducing new technologies to consumers and differentiating its offering from niche rivals.
Origins
Cisco was founded in 1984 by married couple Leonard Bosack and Sandra Lerner, who met as students at Stanford. After graduating with the class of '81, the duo directed the computer facilities of two different departments on campus. In particular, Bosack discovered a method to link their respective computer networks that Stanford had devised in the prior decade. As it was discovered, router technology could be profitably adapted for large-scale use outside the school. 
Three years later, the originally named "cisco Systems" was founded. Named as an abbreviation of San Francisco,  the logo was supposed to resemble the Golden Gate Bridge. Stanford was quick to license its proprietary software to the blossoming company. 
In the new decade, Cisco Systems went public with a market capitalization of $224 million. However, the success for the original founders was short-lived. Six months after their public offering, Lerner was fired; in protest, his wife resigned. 
The mid-to-late 1990s saw the wide adaption of the Internet Protocol. At the height of the dot-com bubble, Cisco became the most valuable company in the world, with a market capitalization of more than $500 billion. On the business side, Cisco continued developing their routing, switching, and security portfolio. The growing importance of the Ethernet also influenced the company's product development decisions. Throughout the 2000s, Cisco became globalized, branching out their significant presence in India — in particular, establishing its Globalization Centre East in Bangalore for $1 billion. 
In recent years, the company has expanded by acquiring others related to their industry. In March 2007, WebEx Communication Inc. was acquired for $3.2 billion. Ten year later, Cisco purchased App Dynamics, a cloud application management provider, for $3.7 billion. In total, over 200 firms have been purchased to expand Cisco's business. 
November 2019 saw an alliance with Microsoft Inc, who plans on collaborating in cloud computing with Cisco's WebEx. The deal involves licensing arrangements and shared expertise. Most recently, Cisco reached an agreement to acquire Acacia for $4.5 billion in cash. Initially, they were set to acquire the company for $2.6 billion two years prior, but the deal fell apart.
Competition Analysis
Cisco's competitors depend on their specific industry. For network equipment, Cisco has a strong presence, holding roughly 49.3% of the industry's revenue share through the Ethernet switch market. Competitors in this particular field include Juniper Networks inc. ($41.03 billion), Huawei ($121.72 billion), and Arista Networks Inc ($2.2 billion). Chief among these, Juniper Networks looks to see rapid growth in significant market share, due to improved pricing strategy, an extensive customer list, and pioneering router and switches manufacturing technology. 
Open-source rivals include HPE Aruba, Netgear, Extreme Networks, and Dell Technologies. 
Current Valuation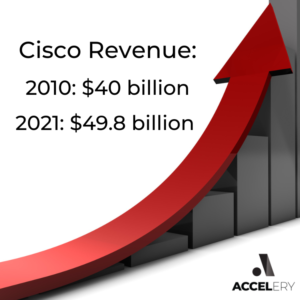 Cisco's main source of revenue comes from their infrastructure platforms, service segments, and by selling equipment to internet service providers and telecom carriers. Additionally, they offer network design and consultation. The company has a market cap of $234.26 billion and is the largest networking company in the world by sales, with $49.8 billion in total revenue. 
According to their 2022 Q3 results, solid demand with product order saw growth up 8% year-over-year. Total revenue was flat. In connection with the Russian invasion of Ukraine, Cisco stopped business operations in Russia and Belarus, resulting in a negative impact to revenue of $200 million. 
As of this writing, stocks were estimated at near $43 a share.
Similar to the rest of the industry, the company's performance has been negatively impacted by high costs and expenses associated with supply-chain constraints and higher logistic costs. 
New Growth Transformation
In the last ten years, Cisco subscription applications increased by 43%. By detecting future opportunities, the company identified possibilities in the cloud and subscription-based service sector. During CEO Chuck Robbins' seven-year run heading the company, the software subscription business has grown 253%, saw a reported increase from $3.4 billion in July 2015, and ended its last fiscal year with $12 billion. At least 81% of software is now sold as a subscription, with 30% representing Cisco's total revenue. The company is planning for subscriptions to generate at least half of its total annual revenue in the fiscal year 2025. 
For future profits, Cisco has invested the bulk of their research and development in subscription growth. According to the company estimates, by growing opportunities in software, subscriptions, the cloud, edge, and telecom, Cisco's addressable market will be pushed to $400 billion in three years. 
If you are interested in learning about other businesses that have successfully transformed digitally and growth revenue as a result of the transformation, read, "8 Significant USA Business Transformations."