Another multi-billion dollar tech company that started in a garage. 
For the last 30 years, Adobe has been at the forefront of software, introducing multimedia programming used by nearly every creator. The American multinational computer software company has historically specialized in the creation of products, and hosting tools incorporated in creation, editing, and publishing. 
The company has fielded 26,000 employees worldwide and runs operations out of New York City, Austin, Seattle, and nearly every stateside major city. It also has major development in India. 
Adobe is currently lauded for their advanced Creative Cloud. Users can choose from over 20+ app products, following 19 different subscription plans that Adobe offers. Licensing keys are then presented for access. To date, Creative Cloud apps have been downloaded more than 449 million times. 
Adobe Origins
The company was originally started in 1982 by two computer scientists intent on delivering diversified computer programming  The first creation was PostScript, which was able to accurately describe the exact position, shape, and size of an object on a computer-generated page. When the program was brought to Xerox, they declined to market the technologies, causing the creators to branch out on their own. A year later, Apple became the first licensee of the software. Steve Jobs saw the opportunities the company presented. He offered to purchase Adobe for $5 million, but settled on owning 19% of the company. This resulted in Adobe becoming the first company to become profitable in its first year at Silicon Valley. 
Adobe went public in 1986, and grew to $168.7 million by the next decade. However, Apple decided to sell its stock and develop its own PostScript clone. Lawsuits abound and the duo eventually reached a settlement, though a contentious relationship developed between the two computing giants. Decades later, Jobs introduced the iPhone without Flash, and released an epic missive entitled "Thoughts On Flash" that completely denounced the program.  
Probably best known for their application software, Adobe introduced Illustrator in 1987, followed by their most famous creation Photoshop three years later. It was one of the first commercial applications that made new features available through plug-ins and developed an 'open architecture' for users. Other programs in the Adobe Suits that received a green light throughout the decade: Premiere (for editing video and multimedia production), PhotoDeluxe, and Acrobat. Users can't access a PDF without the latter. 
By the end of 1998, Adobe Type Library encompassed more than 2,500 typefaces, selling their application software to numerous operating systems. 
The 2000's saw numerous acquisitions to leverage their varied market shares. The product line expanded to include Macromedia, Dreamweaver, Flash, and nearly two dozen others. As of this writing, Adobe boasts over 60 programs in their product line. 
Adobe Competition Analysis
Adobe's primary competitors include prominent technology companies across the industry. The list includes global brands: Microsoft, Oracle, SAP SE, and Salesforce. Their competition is split into different forays, including web, product, and digital experiences. 
Adobe currently ranks fifth in specialized software products. Their growth targets for revenue include digital media segmentation and digital experience subscription bookings/revenue.
Adobe's main business strategy is to provide creativity, accelerate document productivity, and power digital businesses. 
Adobe Current Valuation
In 2010, Adobe's revenues were $16.89 billion; 2021 saw earnings of $187.08 billion — the 54th most according to Fortune 500.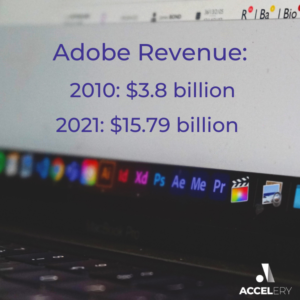 Based on their 2021 Q4 Fiscal Results, their revenue marks a 20% year-over-year growth. Adobe has a revenue model that makes money in the following three ways: subscription revenue, product revenue, and other services:
Subscription revenue — This makes the company the majority of its money. 87.5% of total revenue came from subscriptions, with plans ranging between $4.99 to $79.99 per month.

 

Product revenue — licensing includes people or organizations using the software which may be purchased on a permanent basis or based on the usage of OEM/royalty agreements.

 

Services and other revenue — according to Adobe's Form 10-K, this revenue is recognized as "fees related to consulting, training, maintenance and support, and Adobe's advertising offerings."
Needless to say, the company has come a long way from their initial public offerings, which offered shares priced at a measly $0.17. According to long-term forecasting, stock prices will peak at $942 by 2027 in 2031; the current 2022 stock price is a little over $407. 
Adobe Digital Transformation
Over the last decade, Adobe has expanded its digital experiences by 27%. According to their yearly Adobe Summit, the company stressed how digital experiences produced for customers via marketing collaboration led to growth. In November 2020, Adobe acquired Workfront, a marketing workflow and project management provider. Digital Experience business unit made $3.13 billion in 2020, up 12% from $2.80 billion the year before. 
Creative Cloud-powered content has automation capabilities that permits real-time personalization, new segment matches, and accelerated management across all properly-tagged websites. More than 22 million paying Creative Cloud members use Adobe apps on a monthly basis. The Cloud is expected to increase to $84 billion by the end of this year. 
Acquisitions over the past decade relating to digital transformation include web content management, DAM, commerce, customer data management, and marketing automation, amongst others. The programs are meant to enable world-class content, experience, data, marketing, and commerce.